On-board train connectivity is a constant problem for commuters. Within the current UK infrastructure, many resort to working from their phones or hot-spotting themselves in order to work on their laptops. However, even by using this stopgap, it doesn't take long for commuters to fall foul of patchy internet access, disrupting their output away from the office.
With the age of 5G connectivity dawning, these outdated experiences will be consigned to the past. In fact, the UK Government is striving to achieve connections which will enable a whole train of commuters to stream online videos simultaneously. The good news is, unlicensed mmWave technology will help to provide this sooner than many may think.
UK 5G Strategy
Former Minister for Digital and Culture, Matt Hancock, said last year that by 2025, trains could achieve connections of approximately 1 Gigabit Per Second (Gbps) – ten times more than figures collected in 2017. Since then, the Minister may have moved on, but the commitment remains. Speaking at last Autumn's Conservative Party Conference, the current Secretary of State for Digital, Culture, Media and Sport (DCMS), Jeremy Wright, said that the UK "must have infrastructure that can support whatever we will need in the future".
In order to achieve this, the Future Telecoms Infrastructure Review (FTIR) has suggested, amongst other things, that increased access to the spectrum for innovative 5G services, should be granted. Because of its strong connections at high speeds, the unlicensed spectrum represents a key part of the solution to deliver constant connectivity to commuters.
How will mmWave improve train connectivity?
There is an inherent infrastructure challenge when it comes to train connectivity. As Railfuture spokesman, Bruce Williamson, puts it: "the on-train Wi-Fi connection relies on the mobile phone network, which wasn't set up to cover railway lines, hence there are gaps in the countryside and in tunnels." Tree foliage, train windows and walls also pose significant challenges to achieving reliable, high-speed and – perhaps most importantly – cost-effective connections.
This is exactly where mmWave units come into play. By mounting these on existing trackside infrastructure (i.e. masts), reliable, high-speed connections can be achieved. Even where blockages are present, Blu Wireless's software-controlled self-organising (SON) technology is designed to bend around any obstruction, maintaining consistent commuter connections. Doing this cheaply has also been a challenge in the past, but our wireless technology means expensive dig costs can be avoided, while installation itself is quick and easy.
---
Read more in our Whitepaper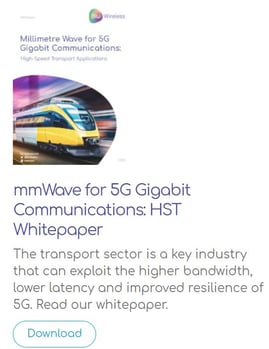 ---
Next-generation technology, now
Before the 5G rollout is fully completed – a process which is likely to take several years – the technology still has an integral role to play in improving current 4G connections and broadband, as well as bridging the digital divide. After spending years in the R&D phase, Blu Wireless is ready and capable of implementing its technology in the here and now.
In fact, this month, we will be demoing unlicensed 5G technology (60 GHz WiGig) as well as licensed 5G (24.0-29.5 GHz) at the Mobile World Congress, alongside our partners Sivers IMA and Fujikura. As significant progress continues to be made in 5G, ultra-rapid mmWave connectivity offers a solution that can be leveraged for public transport today – meaning those hours wasted connecting to unreliable train WiFi could soon be a thing of the past.